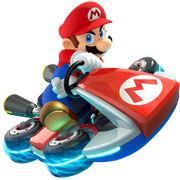 | | | |
| --- | --- | --- |
| " | I'm so excited for this sh*t...! | " |
Mario Kart 8 is a racing game developed by Nintendo as the eighth installment in the Mario Kart series. It was released in May 2014. On popular demand Dashie plays the game frequently on his gaming channel on YouTube. This is also the game where Dashie developed his "rivalry" with Donkey Kong, one of the playable characters in the game. Considering the rival system in Mario Kart 8, Donkey Kong tends to show up the most whenever Dashie plays as Yoshi, as DK is one of the rival sets for Yoshi. Dashie is also known for calling the game Mario Kart Hate or H8, as a small spin on the name Mario Kart 8.
Dashie has played Mario Kart games before on his gaming channel such as Mario Kart Wii and is a fan of the general series.
Dashie's Offline Play
More often than not, Dashie feels he is not yet ready to face off against experienced players online and instead faces off against CPUs to practice. He usually sticks with his usual parameters for offline play, which may include items set to Frantic Mode and a CPU difficulty of hard (to which Dashie always follows up with a "pause"), though it is not unheard of for him to switch some of the rules to create a unique experience for his gameplay. He is known to choose a wide variety of characters during these videos, with every character having been played to date with the exception of Pink gold peach.
In addition, these are primarily (though not always) the videos where Dashie's infamous rival Donkey Kong is known to strike.
Dashie's Online Play
When Dashie feels he is up to it, he plays Mario Kart 8's online mode, usually as mainstays such as Yoshi. He is known to create strong rivalries between him and players that consistently beat him in races, leading him to single out those people and make finishing in a better place than that specific person the top priority.
Tournaments
As per fan request, Dashie has been creating tournaments for him to play with fans who own a copy of the game. Once he gives the code to the tourney invia Twitter, subscribers are invited to join and play within it and possibly face Dashie himself as he records the gameplay. To date, two tournaments have been recorded, with the latter under the stipulation that all players other than Dashie played as his rival, Donkey Kong.
Mankalor's Tourney
This was a tournament held by Mankalor for every Saturday at 9:00AM - 10:30AM PST.
Mario Kart 8 Deluxe
This was the ported game for the Nintendo Switch which was released worldwide on April 28, 2017. Dashie has also already played the game with his friend J.D. Witherspoon (runJDrun, aka J-to the-Dizzle), who recieved the game as a review copy from Nintendo. Since then, Dashie always plays this game in place of the original MK8, in which he has been trying out the new characters first. The new characters are Bowser Jr., King Boo, Dry Bones, the two Inklings from Splatoon and Gold Mario (a variant of Metal Mario). In one of the videos, Dashie stated that he is working privately on unlocking Gold Mario, which he has accomplished and made a gameplay where he plays as Gold Mario. If you want to play with Dashie online, he'll pop his Switch Friend Code soon.
See Also